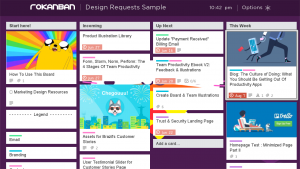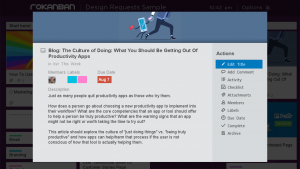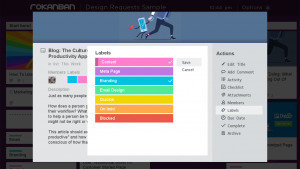 Rokanban allows you to display and work with your Trello.com boards directly on a TV!
Features Demonstration
Free Version
Display list of boards of a selected public team
Sort the list of boards based on # members, last updater or by name
Display and navigate on any public kanban board
Read description and comments
View checklists of the card
View the list of attachments
View the list members assigned to each card
View the list of labels associated with the card
Enable/Disable visualization of board background and card posters
Auto refresh your board on a configurable rate
Full Version (in-app upgrade)
All features of the free version plus…
Associate your Trello account to access your private boards
Move cards along the board lists
Edit cards title
Add comments to the activities list
Assign and remove members to the cards
Add and remove labels to the cards
Mark done/undone checklists items
Play videos, audios and images attached to the cards
Edit card Due Date
Complete and Archive cards
Note: Not all attached media can be played by this channel, only mp3/mp4/mkv/mov created with encoding supported by Roku. Check Roku support website for details.
Installation Instructions
The channel is available at the Roku Channel Store, search for "Rokanban for Trello" on the App category.
Trello Content
In order to give a context about the channel, an example team was created and configured as the default for Rokanban, the boards shown when the channel starts are from the team Board Examples for Roku, most of the boards on this team were copied from the Trello sample team Inspiring Boards. These boards are read-only for the regular user, however any one can be copied to a personal account to be used. The instructions on how to copy a board are available at this Trello help page.
After the upgrade you should associate your Trello.com account to the channel in order to have access to all the full version features. When associated to your Trello user account the channel start screen will look like your own Trello profile page, it shows your personal boards, and below that, all teams that you are member of, with all the boards you can work with.
Disclaimer
Neither this channel nor the developer are associated or endorsed by Trello Inc. Rokanban is only a client app using the public API provided by Trello.